Best Security Lighting Options In Seattle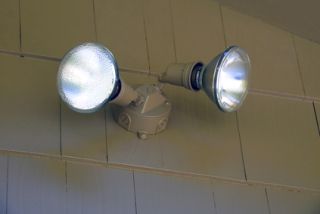 When outdoor lighting is properly designed and installed, it can not only enhance the beauty of your home, but it can also help enhance the security of your home. Security lighting can be a very easy and cost-effective way to help protect your home and give it the extra protection it needs, but with so many options out there, it can be difficult to know what works, and what amounts to little more than decoration. To help you with your decision on what type of security lighting to invest in for your Seattle home, we have put together a short list of the three best forms of outdoor Seattle security lighting our Seattle Electricians think you can find for your home.
Outdoor Flood Lights
Having a multi-headed flood lamp allows you to direct your light exactly where you want it to be. By mounting one above your garage, you can effectively flood your entire driveway with light and deter anyone from deciding to take a closer look inside your car or your garage. You can also set one up near your back door to illuminate this secondary entrance to your home. Most criminals only commit crimes when they know their chances of being observed are unlikely. Flooding your backdoor area with light is a great way to deter any would-be thieves from attempting to force their way in through that area.
While there are numerous flood light available, some of the best for your consideration are energy efficient LED bulbs. Even with a 10-35 watt bulb, you will be getting an extremely bright light and these bulbs can go maintenance free for their entire lifespan up to 50,000 hours.
Outdoor Area Lights
Area lights are great for illuminating the area immediately below and outward from their fixture. This is great for more general security lighting outside your home. The beam of light from one of these fixtures can be enough to light up a good portion of your yard or driveway as opposed to making a spotlight over one particular area. Again, LED bulbs are going to be your best option when it comes to bulbs. They give off a bright white light more akin to daylight than your standard bulbs and their long life ensures that you won't have to constantly be changing bulbs.
Motion Lights Are Always A Good Choice
No matter what style of lighting you choose to go with, motion detection is an extremely useful trait for any residential security lighting. The alternative to this is to install lighting that automatically comes on at dusk and stays on until the sun comes back up. Normally this is more appropriate for commercial properties, however, since security lights are designed to be bright as opposed to decorative, so they can actually wind up disturbing your neighbors if they are left on all the time. With motion lights, however, your yard or driveway isn't always flooded with unnecessary bright light when everything is calm outside your home. Only when someone approaches your home at night will they come to life and reveal their locations. Having your lights on a motion detection switch can also help you save a great deal of money on your energy bills as opposed to leaving them on all night every night.
If you are looking for security lighting for your Seattle home, call the pros at NW Electricians Today at 206-782-1837 or fill out our online request form.