Great quality Panel Upgrades for your Seattle home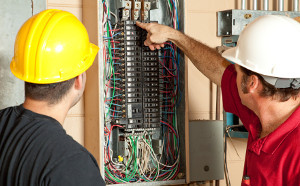 Your electrical system is one of the most important features of your Seattle home, and the core of that system is your electrical panel. Your Seattle electrical panel needs to be able to support the amount of electricity you're using in your home at all times. Otherwise, you'll experience power outages, and it may create a very dangerous situation if your home.
At NW Electricians Today, we have professional electricians who can help you determine whether your panel needs to be upgraded or replaced, and we can take care of the entire job from start to finish.
What is an Electrical Panel?
Your main electrical panel is typically a large gray box that is located in your garage or basement and is filled a series of switches. Those switches are called your breakers, and when they "trip," it will cause a power outage until the switch is turned back on. If your breakers are tripping repeatedly or frequently, it can mean that your panel is not equipped to handle the amount of electricity you're using, which can be very unsafe.
If you've noticed your breakers are frequently tripping, call NW Electricians Today to have your electrical panel inspected as soon as possible.
How to Know When Your Panel Needs an Upgrade
You Have Screw-In Style Fuses

Screw-in style fuse panels are very common in older Seattle homes, and when they were introduced, they were perfectly fine. Today's homes, however, use much more electricity than they used to, and screw-in style fuse boxes are simply no longer adequate. Most like, this type of panel needs to be completely replaced.

Your Breakers Trip Frequently

If your breakers are tripping frequently, you notice flickering lights, or your electrical system is unable to provide electricity to all of your appliances, the problems can often be solved with a panel upgrade or replacement.
Old and outdated panel are more than just inconvenient. Aside from causing irritating power outages, they can also lead to smoke damage that, or even to a house fire. Call our professional Seattle electricians today for assistance in determining whether or not a panel upgrade could be beneficial to your Seattle home.
You should also have your panel upgraded if:
Your panel box makes cracking sounds.
Electrical service conductors are overheating
You're renovating or adding to your home.
You add a sauna or a hot tub.
You use 60 amp or 100 amp electrical service.
Your home owner's insurance requires that you make an upgrade.
You use multiple extension cords.
Our Professional Panel Upgrade Technicians
Because your electrical panel is such an integral part of your electrical system, it's very important that any time you need to have it repaired or worked on in any way, you hire a licensed electrician you know you can trust with the job. At NW Electricians Today, we can guarantee high quality work that you'll be completely satisfied with. We'll do whatever it takes to make sure that your electrical system is always as safe, functional, and reliable as possible.
Recent Articles
When you have circuit breaker trip in your Seattle home, you have to get your electricity working again by going outside, out to the garage, or down to your basement to flip the breaker back on. And if this becomes a recurring problem, it doesn't take long for it to get extremely frustrating. More importantly, frequently tripping circuit breakers can signify very dangerous electric problems.

---

DIY projects are becoming more and more popular all the time, and it's east to see why. They can be fun and they're very satisfying, plus you'll be improving your home and saving money on labor costs. However, there are some projects that you never want to attempt on your own, and electrical repairs are definitely among them.
If you are looking for Panel Upgrades services in Seattle, call NW Electricians Today at 206-782-1837, or fill out our online request form.