Stunning Seattle Pool Lighting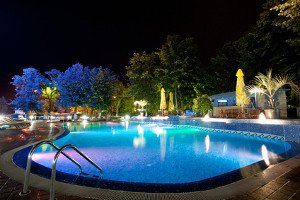 If you're installing a pool at your Seattle home, it's very important that you make sure the electrical wiring is professionally installed and totally, completely safe. At NW Electricians Today, our electricians have extensive experience working with these systems, and we'll be able to guarantee thorough, accurate, and safe installations of any pool lighting systems.
As you can imagine, it's very easy for problems to arise when water and electricity are in such close proximity, so ensure that the wiring for any pool lighting is done professionally and is totally up to code is extremely important. Because of that, you always need to hire a professional Seattle electrician who is qualified, licensed, and experience, or not only will you not pass code inspections, but you could be faced with serious injuries. If you're installing a pool, contact our electricians for all of your electrical lighting needs.
Swimming Pool Electrical Wiring
Proper electrical wiring installations for swimming pool can be accomplished in four general steps:
Secure an electrical permit
Wire a sub-panel at the equipment pad to power pool equipment
Bond the metal components of the pool
Pass electrical inspections
Our professionals will attain the proper permits before any of the work begins, and we'll be able to handle all technical aspects of the job. We will guarantee that all of our work will pass all inspections and be completely safe and up-to-code.
Electrical Panel Additions
It's not uncommon for you to need to have your electrical system modified when you're adding any new electrical components to your Seattle home. If your home's electrical panel is already full, it may not be able to support the addition of the extra wiring needed for your pool lighting. If that is the case, you will have two options:
Install a sub-panel. This will provide more breaker space to accommodate the extra electrical need of your pool lighting. In order for this to be a viable option, however, your home's wiring will already need to be able to support the extra electrical output.
Contact your electric company to request a service upgrade. It can take around six weeks for this to be completed because it requires an installation by your electric service provider. Service upgrades will increase the amount of electricity which the company sends to your home, allowing you to add more electrical components.
If you need to have your electrical panel updated in order to accommodate the new pool wiring additions, our professionals can help. We'll make sure that your Seattle home is able to fully support the additional electrical output you'll need for your pool lighting in Seattle.
Recent Articles
When you have circuit breaker trip in your Seattle home, you have to get your electricity working again by going outside, out to the garage, or down to your basement to flip the breaker back on. And if this becomes a recurring problem, it doesn't take long for it to get extremely frustrating. More importantly, frequently tripping circuit breakers can signify very dangerous electric problems.

---

DIY projects are becoming more and more popular all the time, and it's east to see why. They can be fun and they're very satisfying, plus you'll be improving your home and saving money on labor costs. However, there are some projects that you never want to attempt on your own, and electrical repairs are definitely among them.
If you are looking for pool lighting services in Seattle, call NW Electricians Today at 206-782-1837, or fill out our online request form.