Professional Aluminum Wiring Replacement in Seattle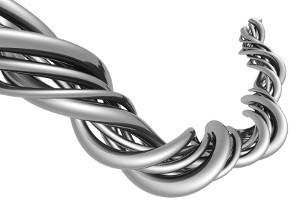 Although aluminum wiring is not necessarily dangerous, it certainly can be, and it's also the most inefficient form of wiring that you can have. At the very least, you'll have difficulty finding an insurance company that will be willing to write a policy for a Seattle home with aluminum wiring. Many homes that are wired with aluminum need to be either completely or partially rewired.
If you have aluminum wiring in your home, call NW Electricians Today today. We'll inspect your electrical system and help you decide on the best course of action.
What is Unsafe About Aluminum Wiring?
Aluminum wiring oxidizes very easily. Because of that, it can develop a significant amount of rust within as little as one day. That rust can easily cause the receptacle to overheat.
Aluminum is softer and more malleable than copper wiring, which makes it more prone to damage.
Aluminum expands as it gets hotter. This is called "thermal expansion," and it means that the wiring can change shape at the terminal screws, which can cause it to come loose and/or disconnect.
Aluminum wiring was very popular during the sixties and seventies. By the late seventies, however, many homes were already starting to transition to copper. If your home still has aluminum wiring, having it replaced is the safest thing you can do. Our electricians can help, and we'll always make sure that you're Seattle home's electrical system is totally functional and completely safe.
Aluminum Wiring Inspections
Even if you have aluminum wiring in your home, you don't necessarily need to have it completely replaced. Our electricians can inspect your Seattle home's electrical system and its wiring to help you determine whether you need any, all, or part of it replaced. Aluminum wiring fails at connection points more frequently than copper wiring does, but it is mostly safe for distribution, even in newer homes.
Aluminum wiring becomes a more serious problem when it's used for branch circuit wiring. Branch circuit wires are the wires that feed into your switches, plugs, and lighting. Aluminum wiring is still commonly used for larger feeders that provide energy to things like AC systems. If you're unsure about whether or not your Seattle home needs to have its wiring replaced, call our professional Seattle electrician to schedule an electrical safety inspection.
Partial Aluminum Wiring Replacements
Most of the time you won't need to have all of your wiring replaced, even if all of it is aluminum. But even if you do only need to have parts of your wiring replaced, you should have it done as soon as possible. Our professional electricians look forward to helping you ensure that your home is as safe as possible.
Recent Articles
When you have circuit breaker trip in your Seattle home, you have to get your electricity working again by going outside, out to the garage, or down to your basement to flip the breaker back on. And if this becomes a recurring problem, it doesn't take long for it to get extremely frustrating. More importantly, frequently tripping circuit breakers can signify very dangerous electric problems.

---

DIY projects are becoming more and more popular all the time, and it's east to see why. They can be fun and they're very satisfying, plus you'll be improving your home and saving money on labor costs. However, there are some projects that you never want to attempt on your own, and electrical repairs are definitely among them.
If you are looking for Aluminum Wiring Replacement services in Seattle, call NW Electricians Today at 206-782-1837, or fill out our online request form.