Dependable Security Lighting for your Seattle Home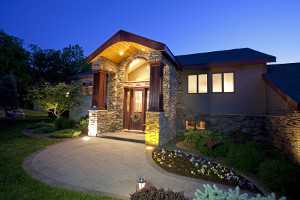 The security lighting design and installation services that we offer at NW Electricians Today are a fantastic way to protect your Seattle home and give you and your family peace of mind. Our electricians have extensive experience working with all types of custom designed security lighting systems, and we can help you ensure that your home is safe from intruders at all hours of the night. Our security lighting systems are very effective, and they can also be energy efficient, and our professional Seattle electricians guarantee prompt and reliable work.
Security lighting is an easy and cost-effective way to provide your home with extra security and protection. Well-lit areas have been proven to deter criminal activity, and installing a security lighting system will help to ensure that intruders are kept away from your home, whether you're there or not.
Security Lighting Design
Our electricians will work with your to design a security lighting system that meets all of your needs and is perfect for your particular home. We'll visit your property and consult with you so that we can tailor the design to your specific requests and your property. Lights can be installed under the eaves of your home, along the sides, or they can be on specially placed poles, all depending on the necessity of lighting levels around your home.
Benefits of Outdoor Security Lighting
Improved the overall safety of your home
Protects home investments
Prevents burglaries and deters intruders
Increases lighting control
Can be energy efficient
Our Security Lighting Services Include:
Flood Lights
Motion Detectors
Outdoor Lighting
Security Lighting Installation and Maintenance
Electrical Service for Outdoor Wiring
Security Lighting Design
Wiring for Outdoor Lighting
Motion Sensor Flood Lighting
Flood lighting is one of the best types of security lighting, as poor lighting makes home an easy target for thieves and vandals, and flood lighting offers the most coverage. Motion sensing flood lighting will turn on as soon as the presence of any person is detected. Along with keeping your Seattle home safe, motion sensor light fixtures will also guarantee that your property is always visible to you, and they can increase your home's curb appeal and resale value.
Security Lighting Maintenance
To ensure that your security lighting system is always effective, our electricians provide maintenance and repair services for security lighting systems in Seattle. We'll be able to quickly and accurately find, diagnose, and repair any problems that you encounter with your Seattle home's security lighting system. We continually train our electricians so that they are always up to date on the latest industry knowledge, and we always guarantee high quality electrical services.
Recent Articles
When you have circuit breaker trip in your Seattle home, you have to get your electricity working again by going outside, out to the garage, or down to your basement to flip the breaker back on. And if this becomes a recurring problem, it doesn't take long for it to get extremely frustrating. More importantly, frequently tripping circuit breakers can signify very dangerous electric problems.

---

DIY projects are becoming more and more popular all the time, and it's east to see why. They can be fun and they're very satisfying, plus you'll be improving your home and saving money on labor costs. However, there are some projects that you never want to attempt on your own, and electrical repairs are definitely among them.
If you are looking for Security Lighting services in Seattle, call NW Electricians Today at 206-782-1837, or fill out our online request form.