Top Quality Electrical Safety Inspections for your Seattle home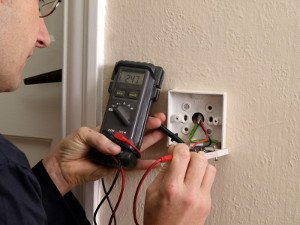 The Seattle electrician at NW Electricians Today understand that your electrical system is a very important part of your home and your daily life. Any problems with your electrical system can leave can be a huge inconvenience, but more importantly, they potentially pose serious threats to the safety of you and your family. Because these threats can be so serious, our professionals recommend that you have a Seattle electrical safety inspections performed on the system regularly.
When any part of your electrical system has significant problems, it could end up causing serious damage to your property, or even injury to a member of your household. Without regular safety inspections, there could be serious problems that go unnoticed and untreated until they become serious threats to your safety.
Our electricians will thoroughly inspect your Seattle home's electrical system and take care of any problems we locate before they turn into serious issues.
Frequency of Safety Inspections
The recommended frequency of electrical safety inspections depends on some specific qualities of your home. You should have your electrical system inspected:
Once every ten years in an owner occupied home.
Once ever five years in a renter occupies home.
Annually for any home that has a swimming pool.
The electrical system should also be inspected any time the property is being prepared for sale, purchase, or rent.
Your Seattle home's electrical system is used almost constantly, and these inspections can make sure that it's ready for that. Inspections will:
Reveal whether any of your electrical circuits or equipment are overloaded
Find any potential shock risks and fire hazards
Identify any defective electrical work
Highlight any lack of ground ding or bonding
Our inspections will also include tests of your wiring and any electrical equipment to determine whether or not they are safe for use.
Code Updates and Corrections
At NW Electricians Today, our first priority is ensuring the safety of you and your family, which is why we provide complimentary safety check-ups with every service call.
Our qualified electricians will make sure that you home's electrical system is in accordance with the most up=to-date electrical codes and make all necessary corrections while we're on site. We'll help you prevent electrical hazards from occurring in your home while also promoting proper functioning of your entire electrical system.
According to the Electrical Safety Foundation International, "wiring hazards including damaged and exposed wiring accounted for 20% of all electrocutions". That's why our professionals advise that you have any electrical code violations in your Seattle home repaired as soon as possible.
Our Professional Electricians and Inspection Specialists
Because your electrical system is so delicate and has the potential to be incredibly dangerous, you should only allow a licensed professional to perform an inspection on your electrical system. Our professionals will be able to find all of the potential safety risks that may be present within your electrical system, and we'll also be able to ensure that your system meets all of Seattle's codes and standards.
Our professional electricians can make sure that your wiring system, sockets, and outlets are all in excellent shape, and we'll look for any wear-and-tear, damage, or deterioration.
We'll provide you with a thorough report of the condition of your electrical system, in which we will detail all damage, deterioration, defects, or dangerous conditions that we find. We'll discuss these problems with you and suggest the best ways to move forward with repairs, but we'll never use scare tactics to convince you to have repairs that are not necessary.
Recent Articles
When you have circuit breaker trip in your Seattle home, you have to get your electricity working again by going outside, out to the garage, or down to your basement to flip the breaker back on. And if this becomes a recurring problem, it doesn't take long for it to get extremely frustrating. More importantly, frequently tripping circuit breakers can signify very dangerous electric problems.

---

DIY projects are becoming more and more popular all the time, and it's east to see why. They can be fun and they're very satisfying, plus you'll be improving your home and saving money on labor costs. However, there are some projects that you never want to attempt on your own, and electrical repairs are definitely among them.
If you are looking for Electrical Safety Inspections services in Seattle, call NW Electricians Today at 206-782-1837, or fill out our online request form.