Professional Electrical Troubleshooting in Seattle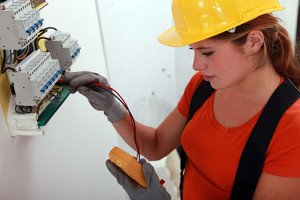 Problems with any part of your Seattle home's electrical system can bring your life to a halt. And if the problems are serious enough, they can be more than just inconvenience—they can be a huge safety concern as well. Problems with your electrical system can very easily lead to house fires.
If you've noticed any problems with your electrical system, the professional electricians at NW Electricians Today can troubleshoot the issues and find exactly where they're stemming from so that we can eliminate them at their source.
Even the most common problems with an electrical system can result in serious injuries or damage to your property, so our professional Seattle Electricians recommend that you have electrical safety inspections performed regularly. During any inspection, we'll troubleshoot any problems that we find and make sure that we thoroughly repair them.
if you're experiencing any electrical problems, call us today for troubleshooting services.
What's Wrong With Your Electrical System?
Some of the most common problems that homeowners encounter with electrical systems include:
Lights dimming or acting strangely
Appliances that sporadically malfunction or otherwise behave abnormally
Unreliable electrical outlets
Seemingly random power glitches
Breakers trip frequently
While these problems are very common, they are often left unresolved by homeowners in the Seattle area simply because their sources are unclear. Even some professional electricians will only treat the most apparent symptoms of these problems and leave the core causes untreated. This can leave your home extremely susceptible to damage, and it may create serious safety hazards.
Our professional electricians will always find and treat the roof of any electrical issues.
Electrical Troubleshooting Promotes Safety in Seattle
At NW Electricians Today, safety is one of our biggest concerns. When any part of your electrical system falls into disrepair, it can be a terribly unsafe situation. Problems with your electrical system could easily lead to a house fire—in fact, the Nation Fire Protection Association names faulty wiring as the leading cause of house fires in the United States. Our Seattle troubleshooting services won't just get rid of the inconvenience of electrical problems, but we'll also ensure that your home is always as safe as possible.
No matter how large or small the problems you encounter are, we'll always be sure find and repair what's causing them so that the problems don't occur again, and you can know for sure that your electrical system is totally safe for use. When we're troubleshooting any electrical problems, we'll always:
Find any overloaded circuits or electrical equipment in your Seattle home.
Find any potential fire hazards or shock risks.
Take care of any defective electrical work or wiring.
Find any parts of the system that lack grounding or bonding.
Recent Articles
When you have circuit breaker trip in your Seattle home, you have to get your electricity working again by going outside, out to the garage, or down to your basement to flip the breaker back on. And if this becomes a recurring problem, it doesn't take long for it to get extremely frustrating. More importantly, frequently tripping circuit breakers can signify very dangerous electric problems.

---

DIY projects are becoming more and more popular all the time, and it's east to see why. They can be fun and they're very satisfying, plus you'll be improving your home and saving money on labor costs. However, there are some projects that you never want to attempt on your own, and electrical repairs are definitely among them.




If you are looking for Electrical Troubleshooting services in Seattle, call NW Electricians Today at 206-782-1837, or fill out our online request form.