Seattle Surge Protection Services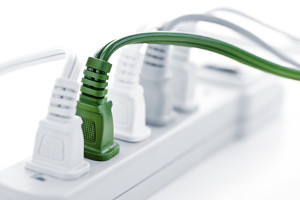 Something as seemingly inconsequential as a light flickering when you plug in or turn on an electrical appliance could be a sign that you're overloading your Seattle home's circuitry. If that is the case, it's very important to take steps to protect your home from electrical surges, and our Seattle house surge protection systems are the perfect way to do that. These systems will prevent any further damage from happening to your circuit board.
Electrical surges are sudden and unexpected spikes in voltage that travel through your electrical system. Some surges come from within your home (turning on a large electrical appliance may cause a surge), and others come from outside your home (from things like downed power poles, cut power lines, or lighting strikes).
Some power surges won't have large effects, and they may only cause the power in your home to flicker slightly. However, many power surges can cause extensive damage to a home's electrical system, which could result in extreme damage to multiple appliances or electrical components. That's why the Seattle electricians at NW Electricians Today strongly recommend that you invest in surge protection devices.
Why Invest in Surge Protection Devices?
Surge protection can prevent major damages to your Seattle home's electrical system. When any problems that you have with your circuitry are left untreated, it can lead to wiring damage, and that in turn may cause burns or fire in your home. Using any electrical appliances with overloaded circuitry can also cause damage to the appliances themselves.
If your circuitry is being overloaded, then using any appliances that constantly run (e.g., a refrigerator) will create a higher risk of damage. Our electricians can help you make sure that these risks are minimized by installing a surge protection system. Surge protectors will redirect any excess energy that your electrical system generates back into the ground. This means that the different appliances you use with your electrical system, as well as the system itself, won't be at risk of suffering damages.
Surge Protection FAQs
How do surge protectors work?

Surge protectors are built to absorb some of the electrical surge and redirect the rest to the ground. Quality surge protectors use sophisticated components that react in milliseconds to a sudden spike in voltage.

Why do I need a whole house surge protector?

Problems caused by everyday electrical surge won't be immediately apparent. Instead, they'll cause a gradual breakdown of the sensitive components within your Seattle home's electrical equipment. While you may not immediately notice the problems caused by electrical surges, they'll quickly turn into major complications.

What is the difference between a whole house surge protector and a point-of-use surge protector?

A whole house surge protector protects your home's electronics from surges that come from outside of your home. They are generally the only line of defense that appliances like air conditioners, refrigerators, or other large appliances have against power surges. Point-of-use surge protectors are designed to protect smaller components like TVs, DVD players, or computers from all types of surges.
The Surge Protectors We Offer include:
Leviton 51120-1 Panel Mount Whole Home Surge Protector and Supressor
Whole Home Surge Protection Unit-Panel Mount
Residential Multimedia Surge Protection Panel
Panel Mounted Single Phase Type 1 Surge Protective Device
Panel Mounted 3 Phase Surge Protective Device
20 Amp 6.5 in. Whole House Surge Protected Circuit Breaker
Recent Articles
When you have circuit breaker trip in your Seattle home, you have to get your electricity working again by going outside, out to the garage, or down to your basement to flip the breaker back on. And if this becomes a recurring problem, it doesn't take long for it to get extremely frustrating. More importantly, frequently tripping circuit breakers can signify very dangerous electric problems.

---

DIY projects are becoming more and more popular all the time, and it's east to see why. They can be fun and they're very satisfying, plus you'll be improving your home and saving money on labor costs. However, there are some projects that you never want to attempt on your own, and electrical repairs are definitely among them.
If you are looking for Surge Protection services in Seattle, call NW Electricians Today at 206-782-1837, or fill out our online request form.