Top Quality GFCI Outlets in Seattle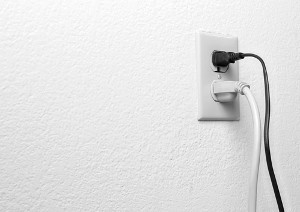 GFCIs (ground fault circuit interrupters) are devices that are used to disconnect circuits whenever there is an imbalance between a charged conductor and a neutral return conductor. They're a very important part of preventing electrical shocks, and they are often mandatory for rooms like kitchens, garage, laundry rooms, bathrooms, and outdoor locations. If they aren't properly connected, GFCI outlets will not be able to function properly, so if you haven't had your Seattle home's electrical system updated within the last ten to twenty years, there's a good chance that your Seattle GFCI outlets need to be either replaced or upgraded.
At NW Electricians Today, our electricians are licensed professionals who can inspect your electrical system thoroughly to determine whether you need need GFCI outlets or switches installed in any part of your home. If we do find parts of your home that have a need for these outlets, we'll be able to handle the installation as well. Although you may be tempted to make this a DIY project, we recommend, for your safety, that you never attempt any electrical work without proper training and experience.
National Electric Codes and GFCI Outlets
The NEC (National Electric Code) has included recommendations and requirements for GFCI outlets since around 1968. During the 1970s, GFCI installation requirements were gradually added for 120-volt receptacles in areas that had a high risk for water contact, like bathrooms and garages. In the 1980s, requirements were added for kitchens and basements, as well as other things like boat houses, indoor pools, and commercial garages.
The requirements for GFCIs were expanded in the 1990s to include:
West bars
Rooftops
Elevator rooms
Car tops
Crawlspaces
Today's National Electrical Codes require GFCIs for any rooms that may come into contact with any water. There are exceptions, or course, as well as different codes for states and cities. Our electricians are knowledgeable of all local codes in Seattle, and we can make sure that your home has all required GFCI outlets.
New Code Update Alert
One of the newest electrical codes to be updated involves Ground Fault Circuit Interrupters (GFCI) this code requires that all bathroom receptacles (outlets) and all kitchen outlets, countertop surfaces must have ground fault circuit interrupters (GFCI) to protect against electrocution. Electrical regulations are set by local city state or national legislation, and the Seattle Electricians at NW Electricians Today can help you ensure your home is totally in compliance with these codes.
Benefits of GFCI Outlets
Shock Prevention

With built-in sensors designed to block any dangerous flow of electricity to a grounded object or person, GFCI outlets will protect people from electrical shocks and electrocution.

Fire Prevention

Ground-fault surges can easily cause electrical fires, and GFCI outlets are very effective and stopping this. GFCIs are one of the most important and effective fire prevention tools you can have installed in your home.

Appliance Damage Prevention

Refrigerators, washing machines, and other large appliances that require significant electricity can be seriously damaged by ground fault surges. GFCIs will prevent this from happening and protect your electrical appliances.
Recent Articles
When you have circuit breaker trip in your Seattle home, you have to get your electricity working again by going outside, out to the garage, or down to your basement to flip the breaker back on. And if this becomes a recurring problem, it doesn't take long for it to get extremely frustrating. More importantly, frequently tripping circuit breakers can signify very dangerous electric problems.

---

DIY projects are becoming more and more popular all the time, and it's east to see why. They can be fun and they're very satisfying, plus you'll be improving your home and saving money on labor costs. However, there are some projects that you never want to attempt on your own, and electrical repairs are definitely among them.




If you are looking for GFCI Outlet services in Seattle, call NW Electricians Today at 206-782-1837, or fill out our online request form.