Beutiful Seattle Landscape Lighting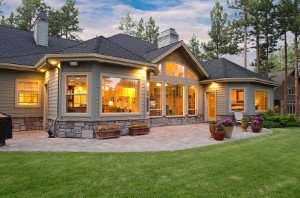 There's no doubt that a lot of work goes into keeping your Seattle home's exterior as attractive as possible, and there's no reason that you should let it disappear every night at sundown. At NW Electricians Today, our professional Seattle electricians can provide you with landscape lighting services that can make your exterior more attractive at night than ever.
Our professionals will help you design a landscape lighting scheme that can enhance the best parts of your home's exterior and landscape, accentuating the attractive details of each. These lights can highlight architectural features, plants and trees, or any other part of your landscape design. We'll work with you directly throughout the project to custom design your Seattle landscape lighting scheme so that it can be the perfect addition to your home, and we'll make sure it's totally function, efficient, and attractive.
Why Install Landscape And Security Lighting?
Ambiance and Entertainment

Create the perfect atmosphere for outdoor entertaining with landscape lighting. Illuminate pools, decks, patios, recreational spaces, and sitting areas long after the sun sets. Create mood lighting that gives your guests an experience they will not soon forget.

Beauty

Accentuate the architecture of your Seattle home while showcasing its artistry and charm. Allow your guests to experience the beauty of your fountains, flowers,trees, and shrubs. Create dramatic scenes that reveal the subtle contours, shapes and textures of your property.

Security

Lighting your home is an effective way to deter residential crime. Although lighting cannot prevent crime, statistics show that a well lit home is much more likely to deter potential criminals. Motion tripped flood lights are a grate way to protect your home and save energy at the same time because the light only come on when you need them.

Safety

Landscape lighting accents pathways, stairs, or any other potential hazards within your yard. Lighting helps you to navigate safely around your property while enjoying its beauty at the same time.

Added Value

Landscape lighting makes your home stand out from the rest. Well-placed lighting can add value to your property by improving the appearance of your home and landscaping. Lighting is a worthwhile investment that adds security, beauty and serenity to your property.
Balancing Function and Aesthetics with Your Landscape Lighting
When our professionals install a landscape lighting scheme for your Seattle home, we understand that there are two parts to a successful job: we need to be able to select the proper equipment and ensure complete functionality of the system, and we need to design an artful set-up for the lighting fixtures.
We recognize that both of these parts of the job are equally important, so we strive to create a perfect balance between the two.
We'll help you select lower voltage lights, which can be safer to work with and will cost less. They receive one tenth of the power that regular lighting fixtures require, but they can achieve the same effects. We'll also take care of any of the work you need for bulbs, light fixture housing, and cables & wiring. But our job does not end there.
We know that the perfect landscape lighting scheme also needs to have an attractive design. Whether you're adding lighting for a walkway to your yard or looking for a subtle wash of light over a garden, we'll be able to help you transform landscape and create a beautiful atmosphere for your home's exterior.
Landscape Lighting Design
Our professionals will work with you directly to design a landscape scheme and ensure that you receive everything you need from the services that we provide. We may be landscape lighting experts, but we also understand that you're the only expert there is when it comes to your home. We'll give you our professional advice and opinions, but we'll always leave all final decisions up to you.
Recent Articles
When you have circuit breaker trip in your Seattle home, you have to get your electricity working again by going outside, out to the garage, or down to your basement to flip the breaker back on. And if this becomes a recurring problem, it doesn't take long for it to get extremely frustrating. More importantly, frequently tripping circuit breakers can signify very dangerous electric problems.

---

DIY projects are becoming more and more popular all the time, and it's east to see why. They can be fun and they're very satisfying, plus you'll be improving your home and saving money on labor costs. However, there are some projects that you never want to attempt on your own, and electrical repairs are definitely among them.
If you are looking for Landscape Lighting services in Seattle, call NW Electricians Today at 206-782-1837, or fill out our online request form.